Clarks and Jamaica: a love story spanning more than 60 years.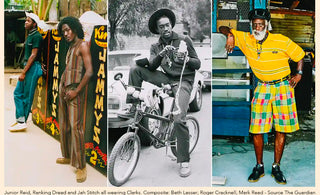 " Leather is resistant, suede is soft, the brush removes dust quickly, everyone has to ask me where did I get my Clarks": in 2010 the king of dancehall, as well as indisputable Jamaican idol, Vybz Kartel (together with Popcaan ) on Mad Collab Riddim sings about how much he likes typical British footwear.
To someone (certainly not to me) it will seem incredible that an artist can dedicate a song to a shoe, as is usually done with a boy/girl.
But then how can you blame him, everyone has their own interests.
The other question is: why in a Caribbean island, with sun 365 days a year, beaches, sea, should they wear shoes instead of always wearing slippers?
My answer would be like: "it will be their business" and, secondly, "is there really anyone who doesn't like Clarks?! "
But if I limited myself to this there would probably be no reason to write anything else about it, so come on, let's try to argue.
The single brought Jamaicans' love for Clarks to the attention of many, but in reality the relationship dates back much earlier.
But let's take a step back (apologies for the excursus), a brief mention of past events is necessary here. The history of Jamaica is undoubtedly marked by strong colonialism. First with the Spaniards who settled on the north coast of the island at the end of the 1500s, then in 1655 the English occupied it until British sovereignty was recognized in 1670 with the Treaty of Madrid.
Clarks was born two centuries later, in 1825, in the village of Street, Somerset, England so to speak. Initially it was a small local company founded by Cyrus Clarks, who was later joined by his younger brother James.
However, after the war it had a strong productive impulse, which coincided with the success of the legendary Desert Boot model of 1950.
This shoe was the idea of ​​Natan Clarks, great-grandson of James, who while in Burma (now Myanmar) during WWII, noticed that the local servicemen, as part of the uniform; they had on their feet a shoe based on a crepe sole and a suede upper.
As a good entrepreneur he was, he took inspiration (but you can safely say that he "snatched" the idea) and returned home with the intention of producing a similar model. Upon his return, however, he found resistance from the board of directors, who considered them "not very serious, ridiculous and inadequate" for what the company standards were.
As often happens in success stories, Natan didn't care and presented in 1949 at the Chi cago shoe fair what later became the Desert Boot in the popular imagination.
The rest is history and the pattern is nearly identical 70 plus years apart.
Clarks & Rude Boy
The ride was long, but here we are. Last boring date: circa 1960, Clarks begins to become popular in Europe. Shortly thereafter Jamaica declares its independence but the British influences are still strong, especially in clothing and lifestyle.
The land is fertile. The vibrant environment. Rampant poverty.
Young people are fueled by a desire for revenge to assert themselves within a difficult social context and this, at times, also leads to episodes of violence.
This mix of factors allowed the birth of the first Jamaican subculture, the Rude Boy (or Bwoy).
The distinctive features are many: from ska music, to dance halls, to fights with music.
Even clothing, as often happens, becomes a sort of identification code. Elegant jackets with flashy brooches, cropped trousers.
However, it would be simplistic to describe such a broad movement in just a few lines. As an outsider, he would not give "justice" to those who experienced that multitude of events on their own skin. So let's focus on what interests us the most, shoes.
What did they wear on their feet? Clarks of course. And the dancehall becomes the perfect place to wear them.
Clarks soon became a status symbol: for young Jamaicans, wearing these shoes represents the way to elevate their cultural status and look like someone on the other side of the world who was better off in their eyes.
Many would have done anything to have them and many have literally done anything to have them. So much so that shoe thefts became numerous and the police began to associate Desert Boots with the Rude Boy gangs, who in turn were seen as dangerous individuals.
Thus we found ourselves making a bundle of grass: anyone who wore a pair of Desert Boots was considered a criminal.
This did not break the love of Jamaicans for the brand, on the contrary it strengthened it. It allowed for the spread of alternative models for, shall we say, less "attention" from the police.
Thus it was that in the following years models such as the Wallabee and the Desert Trek were equally successful.
clarks & music
The link between Clarks and music is indissoluble. If I were a singer, I too would probably dedicate a song to shoes. But I'm biased, it doesn't count.
The first to take an interest in it were a young trio who over the years have combined a little something in the musical field together with another little-known artist by the name of Bob Marley. Of course I'm talking about the Wailers who recorded "Dancing Shoes" in 1966. Song then revived in a reggae-funk key by BB Seaton in 1974.
In 2010, as we have seen, Vybz Kartel released the single "Clarks", while in 2013 the English label (not surprisingly) together with Dj Al Fingers released a selection of 21 songs called "Clarks in Jamaica" which precisely collects hi t dedicated to these shoes. We are therefore faced with titles such as "Clarks booty", "Clarks booty style", "Put on Me Clarks", "Trash and Ready", "Lean Boot".
Jamaicans love Clarks, but the love is well-requited. Clarks has always honored this
Already in 2012 the British house had dedicated a shoe to the Trojan record label.
A Desert Trek that celebrated both the 40th anniversary of the model's birth and the 50th anniversary of Jamaican independence.

Recently, in 2021, a pack was released containing a Desert Boot, a Wallabee and a Desert Trek, all with references to the black/green/yellow flag. Special feature: Clarks has provided a pair of shoes to all Maverley School pupils to make them feel part of the community.
Edoardo Zanini